Farmington Chiropractor Offers Compassionate, Unmatched Care
Discover Hope with Family Chiropractic Center By Your Side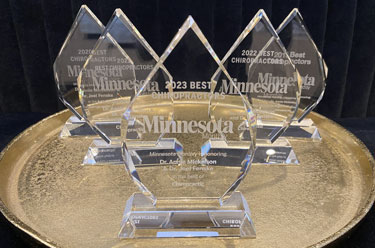 5x-Minnesota Monthly Best Chiropractor
Farmington chiropractors Dr. Annie Mickelson, and Dr. Joel Fenske have been changing lives through their passion for chiropractic care for nearly a decade. They are dedicated to understanding your unique pain and want nothing more than to help you live confidently and comfortably in your own skin. Utilizing INSiGHT™ scanning technology and several well-known adjusting techniques, including state-of-the-art Laser Therapy, our chiropractors and the Family Chiropractic Center team look forward to meeting you, identifying the cause of your discomfort, and supporting you throughout your journey to wellness.
You Belong Here
Whether you have been suffering for years, months, weeks, or days, your pain is real, and you deserve to be treated. Regardless of the severity of your condition of the length of time you have been suffering through it, we are here to talk you through it and provide you with life-altering, custom care.
At Family Chiropractic Center your health and happiness are just as important as ours. Young or old, sports-enthusiast or elite athlete – you belong here.